Introduction to Qualitative Analysis of Elements (NEW)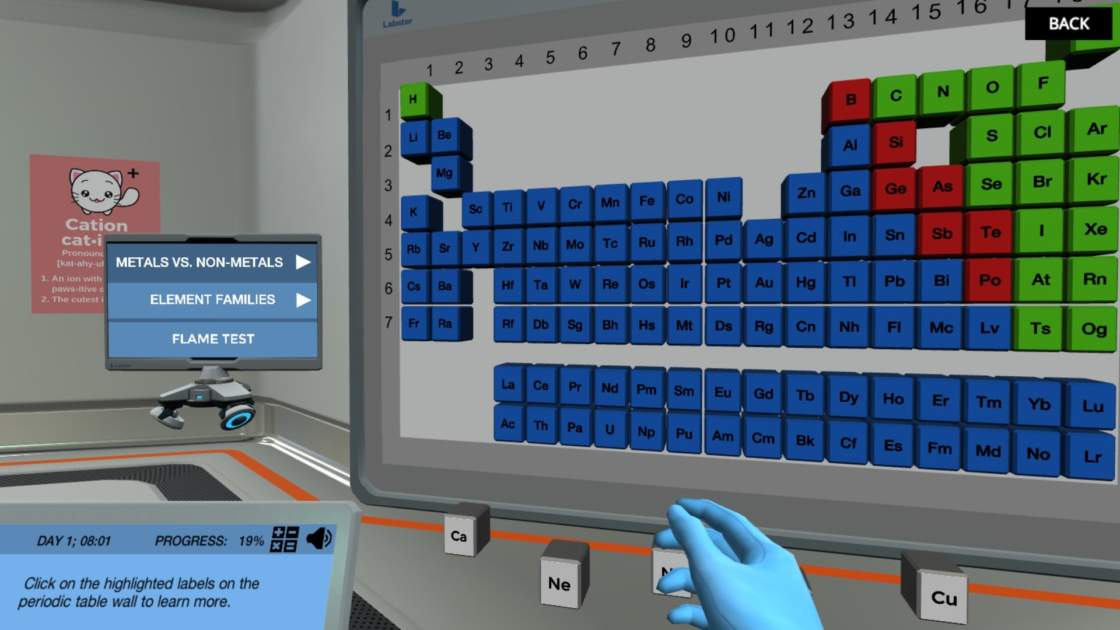 Time to complete course: 21 min.
Try our lab safety simulation
Discover one of 200+ learning simulations available today
About Introduction to Qualitative Analysis of Elements (NEW)
Virtual Lab Simulation
This short, targeted simulation is adapted from the full-length "Periodic Table of Elements: Get the table organized in time!" simulation.
Let's fire up the elements! In this simulation, you will learn all the fundamentals of the periodic table. You will find out which elements have metallic characteristics, perform a flame test, and explore some of the trends in atomic properties among the main groups and periods.
Fix the broken table in time
Your first mission is to familiarize yourself with the periodic table and understand the fundamentals of the elements. You will use this knowledge to figure out where the missing pieces belong by investigating the elements' characteristics and properties. The periodic table is an amazing tool for getting an overview of all the elements in existence, even the elements that only exist when we create them ourselves. So let's put it back together! 
Flame color test and atomic properties
You will combine your observations with the results from the flame color test to sort the first few elements in the table. You will do this by careful observation and comparison of the flame colors with other elements from the table. You may need to use your knowledge about element classes as well to get the full overview.
There are surprisingly many atomic properties for which trends can be observed via the periodic table and you will investigate some of these trends in the lab. You will need all of your gained knowledge to fix the table and assign the fallen-out elements back into it before time runs out.
Help a student in need
At the end of the simulation, a special guest will visit the lab, and she needs your help to understand the basics of the periodic table. 
Will you be able to and use your knowledge of the periodic table to explain it to the guest and answer her questions?
Help Dr. One get the periodic table ready in time! By directly observing the elements' characteristics and testing their flame color, your mission is to figure out where a number of fallen out elements belong in the periodic table.
Qualitative analysis

Flame color test
Describe the structure and organization of the periodic table

Classify elements of a family based on their location in the periodic table

Distinguish metals from other element classes based on typical characteristics

 

Use the flame color test to identify metals based on their position in the periodic table 

Relate valence electrons and oxidation state of a main group element to its position in the periodic table

Describe some of the trends among groups and periods for atomic properties
Accessibility mode – Available
Examples of Related Standards
University
General chemistry courses
NGSS
ETS1.A-P2, PS1.A-E3, PS1.A-H2
IB
Chemistry 3.1: Periodic table
Chemistry 3.2 Periodic trends
AP
Chemistry Unit 1.7: Periodic Trends
Screenshots of Introduction to Qualitative Analysis of Elements (NEW)
Virtual Lab Simulation
A million dollar lab in your browser
Perform experiments in virtual lab simulations to achieve core science learning outcomes. 
All our simulations run on laptop and desktop computers, and you can play our simulations without having to install any browser plugins.
Hundreds of hours of science learning content
Our virtual laboratory simulations are aimed at university, college and high school level, within fields such as biology, biochemistry, genetics, biotechnology, chemistry, physics and more.
With access to our simulations, you will have hundreds of hours of engaging, high-quality learning content available to you.
Discover more Virtual Lab Simulations
We currently have 218 simulations that cover everything from biology and medicine to physics and chemistry.
Learn how you can use Labster in your science course