Spectrophotometry:
Learn the Beer-Lambert law with absorbance experiments
Time to complete course: 25 min.
About Spectrophotometry:
Learn the Beer-Lambert law with absorbance experiments
Virtual Lab Simulation
This is the full-length "Spectrophotometry" simulation. For a shorter version focused solely on the instrument, see "Spectrophotometers: Building and exploring the instrument."
Build your spectrophotometer 
Go under the hood of the spectrophotometer to understand how its components fit together. Can you figure out which pieces do what, and how they all work together in the finished instrument? 
Learn by exploring! Try out different configurations and see how they impact the lightpath used to measure a sample. The virtual lab lets you try out your ideas without worrying about expensive mistakes. The complexity of the spectrophotometer's components and function increases over four levels of interaction, guiding you from photometric first principles to data interpretation for protocol optimization. 
Operate a spectrophotometer and collect your own data
Once you've successfully built your instrument, it's time to try it out! To get started, you'll need to interpret a little data and program the detection settings to the most optimal wavelength for your experiments. Once you're ready, set the baseline and you're off.
Try out different concentrations of reactant and catalyst to explore how the absorbance measured by the instrument is related to reaction rate. The simulation uses a simulated reaction kinetics model and will show your data plotted in real-time.  
Build confidence in applying Beer-Lambert Law to your data
Throughout the simulation, the different conceptual elements of Beer-Lambert law are contextualized as the spectrophotometer's function is explored. By linking abstract concepts like extinction coefficients to the physical attributes represented by each, the links between theory and practice become clear. Will you be able to rise to the final challenge, identify the important parameters, and convert your absorbance data for interpretation?
RELATED SIMULATIONS:
Spectrophotometers: Building and exploring the instrument
Enzyme Kinetics
Build your own spectrophotometer to measure the absorbance of a reaction product on Mars!
Summarize how a spectrophotometer is used to measure absorbance data

Link the major components of a spectrophotometer to their functions within the instrument

Choose a useful wavelength for measuring a compound of interest using absorbance spectrum data

Suggest a protocol for measuring the absorbance of a given substance using a spectrophotometer

Apply the Beer-Lambert equation to absorbance data to determine substance concentration
Screenshots of Spectrophotometry:
Learn the Beer-Lambert law with absorbance experiments
Virtual Lab Simulation
A million dollar lab in your browser
Perform experiments in virtual lab simulations to achieve core science learning outcomes. 
All our simulations run on laptop and desktop computers, and you can play our simulations without having to install any browser plugins.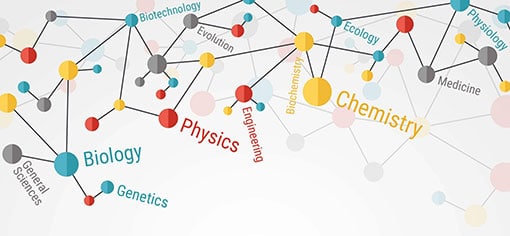 Hundreds of hours of science learning content
Our virtual laboratory simulations are aimed at university, college and high school level, within fields such as biology, biochemistry, genetics, biotechnology, chemistry, physics and more.
With access to our simulations, you will have hundreds of hours of engaging, high-quality learning content available to you.
Discover more Virtual Lab Simulations
We currently have 162 simulations that cover everything from biology and medicine to physics and chemistry.
Learn how you can use Labster in your science course